Warning
: array_rand(): Second argument has to be between 1 and the number of elements in the array in
/home/pmhi/public_html/pages/index.php
on line
199
Click on PHOTOGRAPHS to see our inventory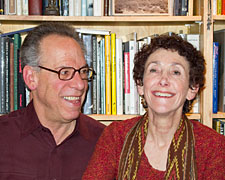 Susan Herzig and Paul Hertzmann specialize in 20th-century American and European photography including modernism, f.64, photojournalism, the Photo-Secession, post-World War II innovations, and unusual or exceptional 19th-century photographic books and albums.
We have more than 40 years of experience buying and selling vintage photographs and are pleased to share our expertise with our clients including museums, private collectors, and colleagues. Our knowledge of the art market, our connoisseurship, and extensive research enable us to offer photographs of quality, rarity, and importance.
Couldn't execute query in /home/pmhi/public_html/pages/index.php [line 249]: You have an error in your SQL syntax; check the manual that corresponds to your MySQL server version for the right syntax to use near '' at line 1.